This part of The Paderewski Memoirs is based on material never before published in English.  American author and journalist, Mary Lawton, recorded Paderewski's life story over a period of several years in the late 1920's.  The first draft of the book Paderewski received for review in 1932.  After very close scrutiny, some parts of the text saw printing in 1937 in a popular magazine, the Saturday Evening Post.  Under a common title, "My Story", it ran between January 23 and March 20 in an eight part series, each subtitled differently and pertaining to various important aspects of his life from childhood to the beginning of WWI.  The success of both the Saturday Evening Post series and a release of the movie "Moonlight Sonata" that same year, in which Paderewski played himself, prompted publishers on both sides of the Atlantic to act in favor of the book.  The Scribner & Sons edition was printed in 1938 in the USA followed by the Collins publication in England in 1939. However, both publishers shortened the manuscript by about 180 pages, ending the book on the day that World War I had been declared.  The last sentence of the book stated: "Later memoirs in preparation".  Unfortunately, the outbreak of World War II and then Paderewski's death in June of 1941 put that effort aside.  The text of this part of Paderewski's Memoirs has not undergone the final editing by the Master himself or his collaborator, Mary Lawton, and is available in the form of a first draft with a preliminary review made by Ignacy Jan Paderewski.   The content has been left in its original form, with spelling, punctuation, structure, and logic intact;  any interference would be unjustified.  The substance speaks for itself, bringing up personality of the author and a flavor of his times.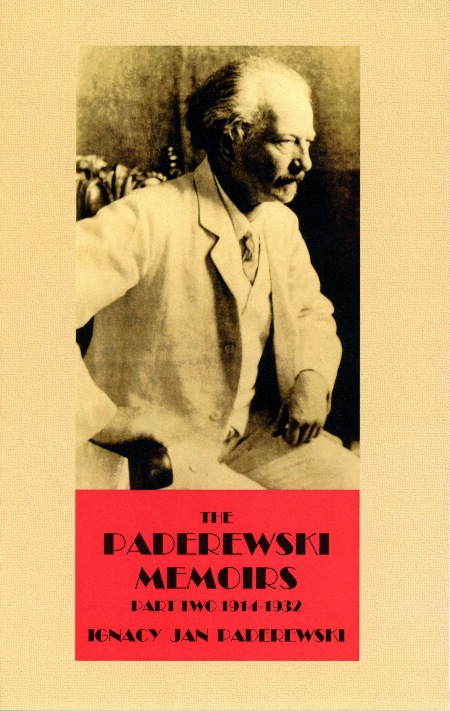 For any donation of $30 or more we will cover shipping and handling expenses of a priority mail for a single book (continental USA).
Otherwise, please provide us with your preferred method of shipping, based on the USPS calculated rates from your location, and add that amount to your donation.  The international SH rate will depend on the delivery destination.
More donation opportunities
Or visit Make a Donation for complete selection.