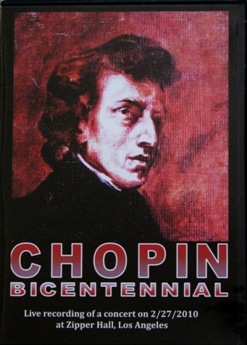 For a donation of $35 or more you will receive our Chopin Bicentennial DVD/CD set.
($42 with SH to continental USA; the international SH rate will depend on the delivery destination)
If you attended the February 27, 2010 Chopin Concert at Zipper Hall, you know it was an evening to remember.  Now you can re-live it again and again on a screen of your TV set or by listening to your stereo.  Please invite again to your living room the performers you applauded so generously by supporting the Paderewski Music Society with your donation so you can enjoy more events of a similar caliber.
If you are one of those who weren't able to attend or live anywhere but Los Angeles, here's your great chance to experience what has become an incessant talk of this town.
For a donation made to the Paderewski Music Society you may enjoy this set of a DVD and two CDs forever.
Suggested donation, including S&H within the USA: $35-infinity
For international shipping, please add $5 to all donations between $30 and $50
The performers: – Jane Kaczmarek – hosting and poetry about Chopin; Wojciech Kocyan – piano, Alexander Suleiman – cello; John Perry – piano; Michael & Priscilla Pawlicki, Francoise Regnat, and Charles Fierro – eight hands on two pianos; foreword by Consul General of Poland in Los Angeles, Ambasador Joanna Kozinska-Frybes.
Zipper Concert Hall capacity: 415;  attendance 450+  …   oopssss
More donation opportunities
Or visit Make a Donation for complete selection.