"To support the most talented young pianists following in Paderewski's footsteps by providing an opportunity for artistic relationships to be built, ideas and experiences to be  shared and for the best in human spirit to flourish."
The Paderewski Music Society in Los Angeles, a Section 501(c)(3) charitable nonprofit organization, was established in 2008 by a group of prominent musicians and music lovers alike to uphold the legacy of the great Polish pianist, statesman and philanthropist, Ignacy Jan Paderewski, who throughout his life was deeply engaged in the promotion of music and culture and its all-important place in society.
Our main goal is to encourage and help the young generation of pianists following in Paderewski's footsteps through the invitation of the best pianistic talents from around the globe to the American Paderewski Piano Competition-Los Angeles. The first edition of the APPC took place in May 2010, and it was an instant artistic and organizational success.  The second, also highly successful American Paderewski Piano Competition in Los Angeles with participants representing 13 countries took place in May 2013. We are currently  preparing for the 2016 Competition. It's new name, AMERICAN INTERNATIONAL PADEREWSKI PIANO COMPETITION, LOS ANGELES (AIPPCLA), reflects the international aspect of the Competition.
We would like to encourage you to follow Paderewski's example!  Please support the Competition and the Society with your generous, tax-deductible donation.  In our economically difficult times it is especially important that we support the arts since they are the first to suffer.  Yet, it is also in difficult times that we realize even more strongly how important the arts are to our lives and how truly essential and indispensable they are if the artistic soul of us as a people is to be preserved.
Therefore, let us help the world's best young pianists who will come to Los Angeles to compete again in 2016.  Let us celebrate music and the continuity of tradition.  Let us promote the simple goodness, dignity and generous humanity exemplified by the great Paderewski.
Please visit Make a Donation for more information about donation opportunities, or click the "Donate" button in the sidebar. If you prefer to send a check, please make it out to the Paderewski Music Society and mail to: Paderewski Music Society, 1015 S. Weymouth Ave., San Pedro, Ca 90732.

Suggested tax deductible, donation of $100 or more would be greatly appreciated and listed in the Competition program. Contributions of any amount will be sincerely valued.
Thank you in advance for your generosity.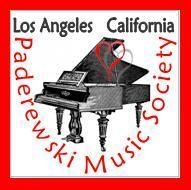 The Society is a non-membership organization; the membership is exclusively honorary through the voluntary financial support, intellectual contributions, and participation in our events.  We do not have any paid office staff.  All work is done as an act of good will, in memory of one of the greatest Poles, Ignacy Paderewski, and to the benefit of all lovers of classical piano.  Please visit our Donations page to find out about the gifts we offer for supporting us.
All rights reserved. Reproduction in whole or in part without permission of the Paderewski Music Society is prohibited.